LG has unveiled two new smartwatches to begin its campaign at
MWC '15
 in Barcelona.
LG Watch Urbane
and
Urbane LTE
were available for hands-on experience for the very first time. The company's spokespeople were a busy lot - clarifying doubts and answering questions from tech enthusiasts. Even the tiniest bit of detail was made clear. Concluding from the specs, both watches are starkly different from one another. LG watch Urbane runs on Google's Android platform while the Urbane LTE has a
LG optimized platform - WebOS
driving it forward. LG watch Urbane has similar specs as the previous 
LG Watch R
, only the looks have changed - for good. It has a slimmer unibody case which looks and feels good. It comes in two variants - silver and gold. The silver finish looks professional while the golden look is aimed at the luxurious.
The Specifications of LG Watch Urbane
P-OLED 1.3-inch screen (320*320 & 254 dpi)
Android OS
Qualcomm Snapdragon 400 at 1.2 Ghz
410 mAh battery
LG has said that the battery can last more than a day, which is to be proven to believe. The
LG Watch Urbane LTE
is the first smartwatch with a LTE connectivity. It runs on custom WebOS built by LG. This gives LG more flexibility with the device and more freedom. It can also run android apps downloaded directly from Google Play.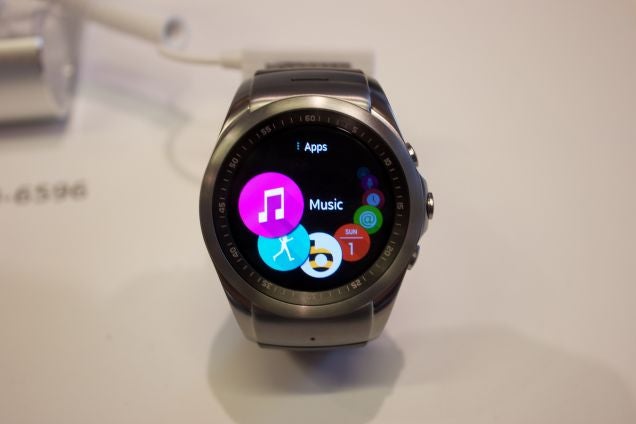 The main features of the Urbane LTE are its ability to
make and receive calls
,
check emails
and
monitor vital health stats
. It has a
heart rate monitor
, an in-built
app for calculating calories burnt during trekking
, a
GPS position locator
and a
NFC connectivity for mobile payments
. It looks cool with an interface like Apple Watch. This smartwatch can attract a lot with its plethora of features.
The Specifications of LG Watch Urbane LTE
P-OLED capacitive touchscreen (320* 320 pixels & 348 dpi)
WebOS
Qualcomm Snapdragon 400 at 1.2 Ghz
700 mAh battery
LG Urbane will be available in United States and Europe by May and will be available to the rest of the world in a phased manner. Meanwhile, LG Watch Urbane LTE is available only for South Korea as of now.